Wildwood Digital have been building websites and creating digital marketing campaigns for years. We have had 000's of conversations with clients and have curated a list of common questions and listed them here:
You can break website design into three general stages: planning, development, and launch. The first stage, website planning, is gathering information and deciding what website you need.
In this stage, you'll define your website's goals, target audience, and overall style. Once you understand your website's goal, you can start the development process.
The second stage, website development, is where your website starts to take shape, where you'll design the look and feel of your website, write code to make it function properly, and fill it with content.
Once everything is complete, you can move on to the third and final stage: website launch, making your website available to the world and promoting it to ensure that people can find it. With a little effort, you can turn your website into a valuable tool that helps you achieve your goals.
View the website design pricing page for more information.
Website design can be very complex and involved, with many different factors to consider to create a website that is both effective and efficient. However, one of the most important considerations regarding website design is cost. How much does a website cost?
Website design pricing can be challenging to answer, as many factors affect a website's overall cost. For example, the size and complexity of the website, the level of customisation and features required, and the experience of the website design team all play a role in determining the final cost of a website.
In general, however, most businesses can expect to spend anywhere from £500 to £5,000 on their website. Of course, this rule always has exceptions, but it provides a good starting point for budgeting purposes. Ultimately, the cost of a website should be viewed as an investment, as a well-designed website can provide significant benefits for both businesses and consumers.
The number of pages is entirely up to you. Many of the example websites you can see in my projects section are simple one-page brochure websites. However, I recommend that if you have a service you are looking to promote, you should have a page for it. For instance, if you are a plumber wanting to do boiler installations, your website should have a page focused solely on boiler installations.
Get a free consultation to learn more about why having a page for a service is helpful. 
The amount of time it takes to design and build a website can vary greatly depending on the size and complexity of the site.
A simple website with just a few pages may only take a couple of days to create, while a more complex website with hundreds or even thousands of pages could take months or even years.
An essential factor in determining how long it will take to build a website is the level of experience of the website designer. An experienced designer can work quickly and efficiently, whereas a novice may need more time to complete the same task.
However, most websites can be designed and built within a few weeks.
We specialise in creating beautiful, engaging websites that are easy to use and designed to convert visitors into customers. Contact us today to learn more about our ecommerce website design services.
Yes, we provide training with all of our websites. You can check out our resources page to see some of our training videos 
Want To See First Hand What We Do?
Watch The 8-min Video Demonstration
You will see live examples of the strategy we use and the first steps we take to put your business on the map and generate your business quality leads. If you like what you see, simply book an appointment to find out more.
Simply enter your email and name and you will be directed to the video straight away... What could you learn?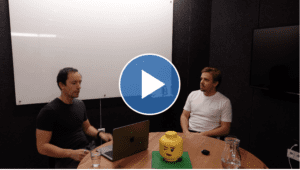 Helping Tradespeople Kickstart Their Online Journey in Digital Marketing and Websites Helping Tradespeople Kickstart Their Online Journey in Digital Marketing and Websites Introduction: In a recent conversation, Matt Beedle, a Business and Performance Coach, sat down with Will from Wildwood Digital in Leeds to delve into the challenges tradespeople face when embarking on their digital…
Read More

→